Get ready to take the gaming world by storm as Dragon's Game, the revolutionary P2E token and in-game marketplace, prepares for its highly anticipated launch in 2023.
With a skilled and passionate team dedicated to delivering a truly innovative gaming experience, Dragon's Game promises to bring a new level of excitement and engagement to players around the world. From hatching and growing dragons to battling for tokens and upgrading in the marketplace, players will have the opportunity to immerse themselves in a dynamic, player-driven economy unlike anything seen before. Stay tuned for the official launch and get ready to unleash your inner dragon with Dragon's Game!
The Major Features In The Game
Hatch Dragons
Dragons are introduced into the game through egg hatching. You can purchase dragon eggs from the marketplace and wait for a period of time for the egg to hatch to get a baby dragon.
Grow your dragon
Your dragon needs food and other training equipment to grow. You can buy them at the marketplace. You need to grow your dragon to maturity so that you can start utilizing it to earn tokens.
Dragon Battles
You can participate in dragon battles against other dragon once you've grown your dragon to maturity. The winner of the battle will earn tokens as a form of reward. You can spend the token in the in-game marketplace.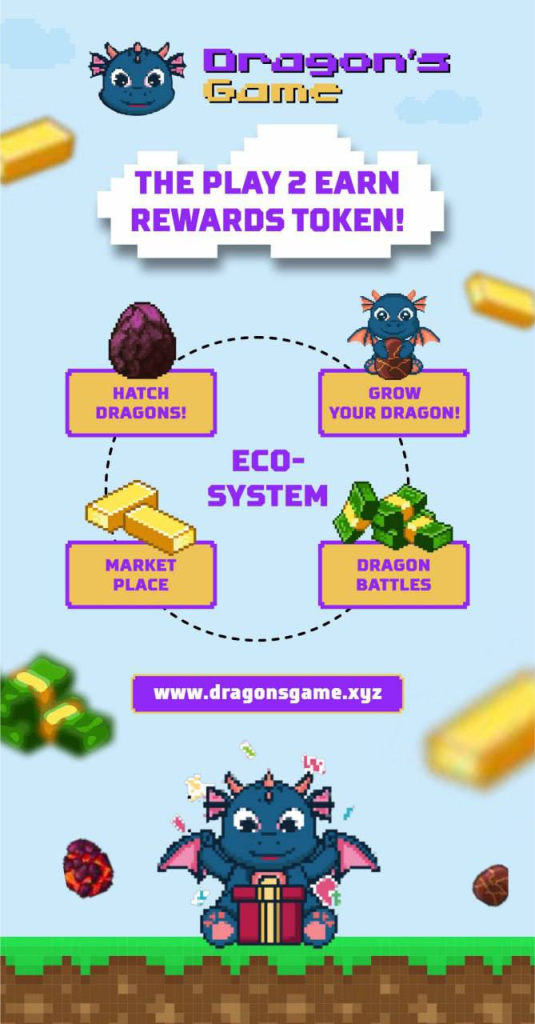 Marketplace
There will be an in-game marketplace where you can buy, sell, and trade dragons to earn a profit. You can also purchase items to upgrade the rarity of your dragons to make them fit to defeat other dragons.
Secure
Dragon's Game uses advanced encryption technology to secure its ecosystem. The contract code will be fully audited to ensure its complies with the standards acceptable in the industry.
Roadmap
Dragon's Game has a clear cut roadmap. According to the roadmap, the team intends to launch the in-game token, website, and marketing drive in 2023 Q1 after presale. Then, in 2023 Q2, the project will partner with established metaverse projects and also list the token on centralized exchanges. Activities lined up for 2023 Q3 include regular marketing events, giveaways, P2E leaderboards, Initial Tier 1 CEX listing, as well as character store opening.
For 2023 Q4, the team plans to launch iPhone/Android beta apps, Beta game launch, and in-game marketplace. Then, in 2024, the game will officially launch to give an opportunity for gamers to play and invest.
Team Members
The team behind Dragon's Game P2E is a dedicated, experienced and skilled group of individuals who are passionate about delivering the game's vision. Composed of experts in programming, marketing, strategy, gaming, and other relevant fields, the team is well-equipped to bring this revolutionary game to life.
About Dragon's Game
Dragon's Game is set to revolutionize the world of gaming with its groundbreaking approach to player engagement and in-game economics. It is a blockchain-based play-to-earn game where you battle with dreaded dragons, collect in-game assets, and grow your way to become a force to be reckoned with. 
This cutting-edge decentralized platform blends the best of gaming with the power of blockchain technology, creating an entirely new and exciting gaming experience. With its innovative gameplay, dynamic eco-system, and player-driven economy, Dragon's Game is poised to become the next big thing in gaming, offering players the opportunity to collect and upgrade dragons, battle other players, and buy and sell items in the marketplace, all while earning valuable tokens.
Get ready to embark on an unforgettable journey, as Dragon's Game launches in Q1 2023!
Social Media Links: 
Telegram: https://t.me/dragongame
Telegram: https://twitter.com/DragonsGameETH 
 Contact Name: Dan Rose
Email Address: [email protected] 
Location: London, UK 
Website: https://dragonsgame.xyz/